Alexandra Verdin
Registered Dental Assistant
Hello, my name is Alexandra Verdin I am a dental assistant at Mercy Dental. When I was younger, I really have good memories going to the dentist, something about the dental field caught my attention. I have decided to become a dental assistant and to be able to help people feel comfortable and happy with their smile. Mercy Dental is a great place with staff that treats you like family, they are willing to help you as much as possible. In my free time I enjoy reading, exercising, watching movies and cooking for my family and mostly spending quality time with my son.
Briana Lopez
Registered Dental Assistant
Hi, my name is Briana Lopez. I love being a registered dental assistant because every day, I get the opportunity to meet new and extraordinary people. I like to make patients feel like they can put their trust in me as a dental assistant and as a friend to confide in. Working at Mercy Dental gives me and the rest of our team the chance to make each and every patient day better by giving them exceptional service. I am so thankful to be working with such a loving and devoted team. When I'm not working, I like to be around my family, listen to music, draw, and binge watch some of my favorite shows on Netflix.
Mabel Gutierrez
Registered Dental Hygienist
My name is Mabel Gutierrez and I am a dental hygienist. I stumbled upon the most rewarding career completely by accident. In order to complete a course I took in high school before graduating, my teacher got me a job at the dental office in town. My plan was to work there only until graduation, but I quickly discovered my passion for promoting optimal oral health and prevention of oral disease. Although I was very happy as an assistant for 7 years, I wanted to be more hands-on with my patients to utilize the skills I gained. It has been a pleasure to serve my patients as their dental hygienist for over a year now. On my days off I spend time with family, friends, and my puppy Millie. Any chance I get, I leave town to travel with my best friends where I indulge in a good book for a couple of days.
Natalia Adams
Office Manager
Natalia Adams is currently the Office Manager of Mercy Dental. With over 20 years of experience in the dental field Natalia began her career in the U.S. Navy where she served honorably for five years. Upon returning to the Valley she continued her work in the dental field as a dental assistant and insurance specialist. During this time Natalia also attended college and obtained a degree in Social Work. After several years of hard work, commitment and determination an opportunity presented itself for Natalia to be an office manager and she has been doing that for over five years. Aside from being an Office Manager, Natalia enjoys spending time with her three beautiful children and granddaughter. She also enjoys exercising, shopping, bbqing and relaxing at the beach with family and friends.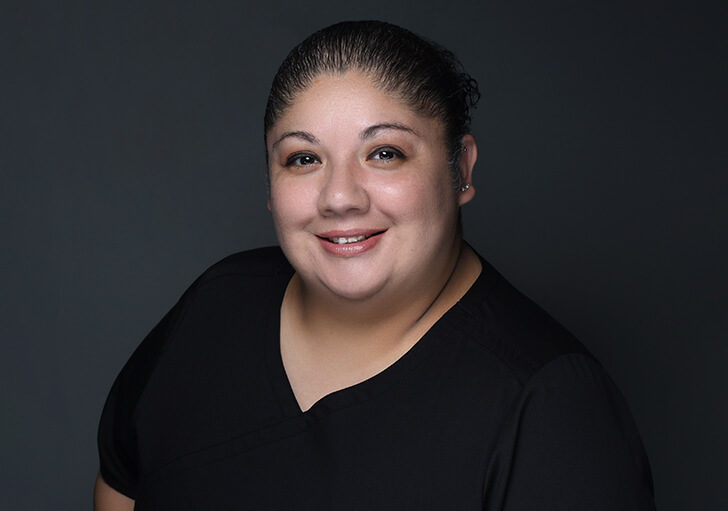 Iliana Cervantes
Insurance Coordinator
My name is Iliana, I am the insurance/scheduling coordinator at Mercy Dental. I greet our patients with a smile and handle their intake, including verification of insurance. I am passionate about helping people with their dental needs and have over 13 years of experience in the dental field. I am a native of Mission, Texas. I have been married for 19 years and I am the mother of 3 beautiful daughters.
Cindy De La Rosa
Treatment Coordinator
My name is Cindy De La Rosa I have been a registered dental assistant for over 6 years, currently, I am the treatment coordinator at Mercy Dental. Having a great smile can change a person for the best. That is why I became involved in the dental field, so I can help with the process of giving you that perfect smile. Being a mother of three boys, life is always busy. Going to band classes to soccer games, keeping my kids active is what makes our family happy. I am also a pet parent, we rescued our dogs at Palm Valley Animal Center and they are our joy. I also enjoy reading books and hope to one day travel the world.